MDDr.Ivan Driapsa
Education:
Faculty of Medicine of the Comenius University in Bratislava, Department of Dentistry
Professional experience:
09/2011 – 07/2016 Schill Dental Clinic, Karloveské rameno 8, Bratislava
10/2016 – present IVODENT – own dental practice
Courses and training:
Member of ITI (International Team for Implantology), 2016
Management of Complications in Implant Dentistry, Dr. Daniel Hess, Knittelfeld, Austria, 2016
Implants in the frontal and lateral section, MUDr. Jiří Krug, Ph.D., Bratislava, 2016
Modern occlusion and function, or how to make fixed prosthetics better and more precisely and large reconstructions reliably, MUDr. Zvolánek, Prague, Czech Republic, 2016
B.O.P.T. (Biologically oriented preparation technique), Dr. Ignazio Loi, Znojmo, Czech Republic, 2016
Excellence in endodontics, Dr. Clifford J. Ruddle, DDS, FICS, FACD, Bratislava, 2016
Direct restoratives – mastering anterior and posterior challenges, Dr. Markus Lenhard, Munich, Germany, 2013
Latest trends in CAD/CAM dentistry, Dr. Florian Beuer; ZT Josef Schweiger, Munich, Germany, 2013
IFED 8th World Congress, Munich, Germany, 2013
Bonded restorations, Dr. Pascal Magne, PhD., Brno, Czech Republic, 2013
New trends in endodontics, MUDr. Jiří Nožička, Ostrava, Czech Republic, 2012
Competence in Esthetics 2011, Vienna, Austria, 2011
Adhesive techniques in direct and indirect restorations, International Center for Dental Education, Ivoclar Vivadent AG,
Schaan, Lichtenstein, 2011
MDDr.Lukas Pleva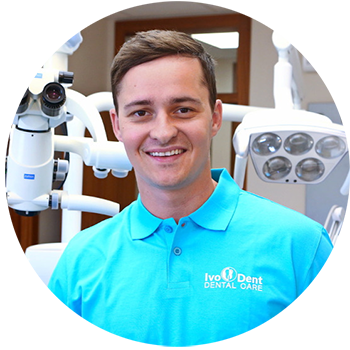 Education:
Successfully completed studies in dentistry at the Faculty of Medicine of Comenius University in Bratislava. After graduating, he worked as a dentist at Stomalab until the summer of 2018, and subsequently worked at DentalWhite until the summer of 2019, when he joined our professional team. From February 2018, he began working in a dental emergency department. Already during his studies and professional practice, he completed numerous professional training courses, congresses, and practical workshops in Slovakia and the Czech Republic.
Courses and training
2014 October participation in Dental Summit Prague
2015 October participation in Dental Summit Prague
2017 November Endodontic treatment in the 21st century – professional lecture with MUDr. Luděk Peřinka CSc., Bratislava
2018 January Endodontics – Expert lecture with MUDr. Daniel Černý, Bratislava
2018 February Paradise gas in the dentist's office – theoretical-practical course with MUDr. Otom Hložom and Ing. Richard Chovan
2018 April Aesthetics in everyday practice – Hotel Mikado Nitra
2018 June Practical lectures MUDr. Jiří Nožička – Total and hybrid prostheses, Jaw relations, Preprosthetic surgery, Bite augmentation, Reconstruction of jaw relations
2018 September Lectures into practice MUDr. Juřího Nožička 2 – Fixed prosthetics, Composite inlay/onlay, Metal ceramics, High frequency current
2019 May Crown, Onlay, Overlay – theoretical – practical course with Dr. Paul Gerloczy, DMD
MDDr. Martin Masha
Education:
He graduated from Palacký University in Olomouc and started working at the Dental Clinic, Department of Periodontology, where he specializes in this field. Currently, he has started his PhD studies, focusing on the latest biological approaches to the treatment of periodontitis (also known as gum disease), as well as giving professional lectures and engaging in publishing activities. He joined our team in the fall of 2019. He perceives dentistry in a comprehensive way, which is why he also educates himself in prosthetics, aesthetic, and conservative dentistry.
Professional experience:
08/2019 – present - Department of Periodontology, Clinic of Dentistry, Faculty Hospital Olomouc
10/2019 – present- IVODENT, private dental practice
07 – 09/2019 – emergency clinic Petramed Clinic, Čadca
Courses and training:
PhD. Studies in the clinical field of Periodontology, Faculty Hospital Olomouc
2020 – Innovative endodontic shaping, MDDr. Milan Lehotský, Bratislava
2020 – Does not accept composite onlej, MDDr. Jan Vojík, Brno
Pragodent 2019
Dr. Johan Figueira – Hot topics in Esthetic Dentistry 03/2019
Invisalign lecture 10/2018
We know how to treat tooth decay, 2018
Dental Summit Prague, 2018
Prague Dental Days 09/2018
UPDENT 2018 – Congress focused on soft skills in dentistry, Olomouc
Fabio Fowler DDS, MBA- Science Based Direct Adhesive Dentistry, 2018
We know how to treat tooth decay, Olomouc 2017
Prof.Dr.Renato de Toledo- Contemporary technological resources in Endodontics, 2017
Inspired by the function - Ondřej Adam, 2016
Marcela Bohušová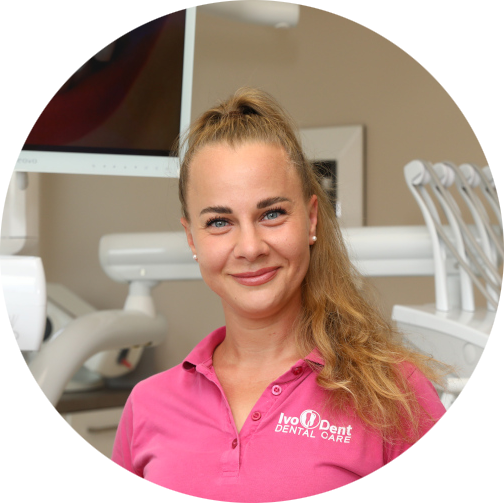 Simona Vargová
Júlia Valčová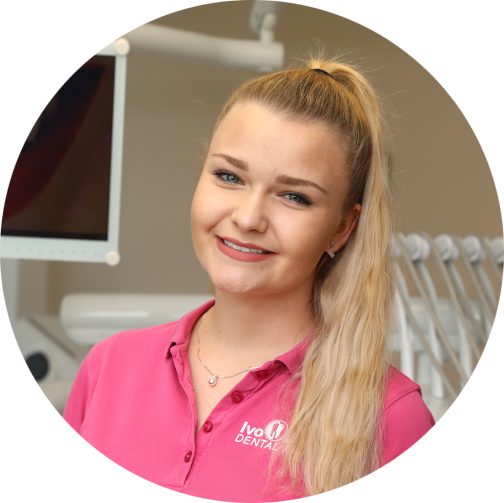 Romana Sejčová